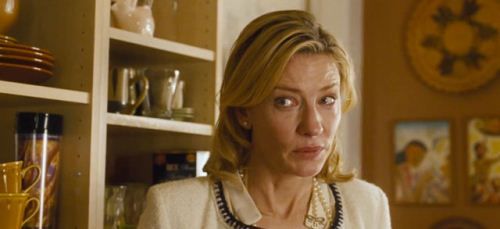 Jasmine (Cate Blanchett) es una mujer que farfulla. Habla sola, como quien hubiera perdido su centro de gravedad. Su canción favorita es 'Blue moon'. Es la que sonaba cuando conoció a Hal (Alec Baldwin), quien se convertiría en su marido, y le conduciría hacia las estrellas, hacia el firmamemto de los lujos y los derroches que parecían inagotables. 'Fly me to the moon' es la canción que sonaba en el extraordinario travelling final de 'Space cowboys' (2000), de Clint Eastwood, el cual concluía con el cadáver del astronauta que encarnaba Tommy Lee Jones. Había alcanzado la luna, pero muerto. Jasmine también se encontró con su cadáver en el firmamento de lujos en el que vivía cuando su mundo se derrumbó, cuando se descubrió que toda la prosperidad y riqueza de su esposo provenía de los fraudes que había realizado. La pantalla de su fantasía se había quemado. El proyector se había atascado. Ahora, su vida farfullaba. La estructura de 'Blue jasmine' (2013), de Woody Allen, es la de una narración escindida, quebrada, entre el presente que una tambaleante Jasmine intenta erigir y un pasado de brillos que se convirtió, por la decepción sufrida, en un agujero negro del que aún no se ha liberado. Aún no puede asumir que tiene que reptar a ras de suelo con las otras criaturas que confirman el espacio terrestre, ese que contemplaba con desagrado desde su elevada atalaya de estrellas.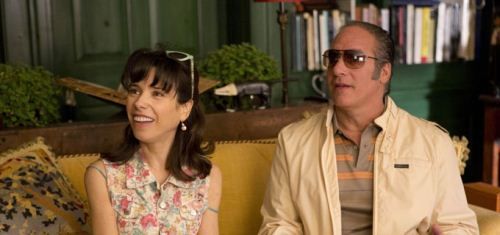 A su hermana, Ginger (Sally Hawkins), la ve como no quiere verse a sí misma, del mismo modo que ve en los hombres con los que ella establece relación un reflejo de su fracaso como mujer. En cambio, Jasmine quiere sentirse excepcional a través de sus hombres, triunfadores, hombres de éxito. Ginger acaba impregnándose de su veneno, ya sea porque los consejos de Hal provocan la ruina de su esposo, Augie (Andrew Dice Clay), y probablemente la posterior separación, o porque se deja influir por su desprecio hacia su nueva pareja, Chili (Bobby Cannavale), al que considera un ser zafio. Ginger, en una fiesta a la que acude de acompañante de Jasmine, se queda hechizada con Al (Louise C K), pero este se revela otra falsa y capciosa apariencia, un espejismo, Otra criatura falaz como Hal (de su doblez se entera por teléfono;su presencia era una ausencia). Augie y Chili serán vulgares, sin lustre en sus modos, en su economía, en su dedicación o en su carácter, pero son lo que aparentan. No engañan.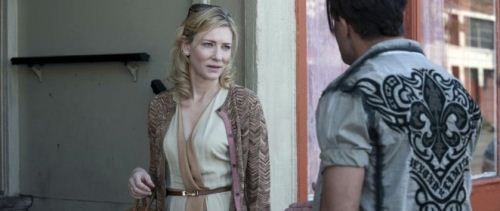 Jasmine se engaña, y como no lo encaja, farfulla, como la cinta que se sigue saliendo la grabadora, acrecentando la velocidad del sonido que hace inteligible lo que se escucha. Y sigue mintiendo, cuando encuentra a otro hombre de imagen distinguida, un diplomático, Dwight (Peter Sasgaard), porque la imagen es lo primordial, cómo te presentas a los demás, todo es cuestión de diseño de exteriores, todo es cuestión de de diplomacia, de apariencias y maneras, de simulaciones y escenificaciones. Y si el interior se deterioró, si la imagen fue dañada, hay que maquillarla, disimularla, porque sino será rechazada, porque no tiene interior que ofrecer. Jasmine le dice que es diseñadora de interiores, pero ¿cuál es su interior? Es mujer de apariencias, mujer de diseño. Una mujer atrapada en sus fantasías, en los modelos de vida que intentan convertir en su realidad, con los personajes que quiere que formen parte de la misma, aunque luego colisione con la impostura de ese modelo, de esos personajes.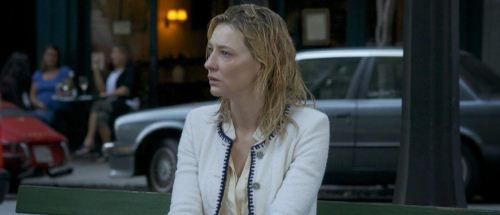 Como también pasaba a las dos protagonistas, 'turistas sentimentales', de una película precedente de Allen, 'Vicky Cristina Barcelona' (2008), a diferencia, por ahora, de esta, ampliamente vapuleada en este país, pero que me parece netamente superior. Cate Blanchett o Sally Hawkins están extraordinarias, pero las alternancias de los tiempos, o de las peripecias sentimentales de ambas hermanas, no acaban de encajar armónicamente. El diseño conceptual es manifiesto, y sugerentemente mordaz, pero me transmite la sensación de mecanismo, no de organismo, como también me transmitía la muy apagada 'Conocerás al hombre de tus sueños' (2010). Las ideas resplandecen, pero el cuerpo dramático resulta un tanto desajustado. Hay personajes secundarios que parecen meros resortes. Su misma indefinición tonal, entre la comedia y el drama, se precipita en una deriva sin centro gravitatorio.Aunque el plano final, cierre para una estructura en bucle, como la mente atascada de Jasmine, sea magnífico.