lunes, 31 de octubre de 2011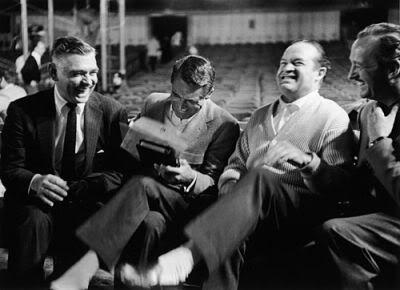 Todos rieron. Clark Gable, Cary Grant, Bob Hope y David Niven ríen a mandíbula batiente durante los ensayos de la 30ª ceremonia de los Oscar, en 1958, que presentaba Hope.¿Quién soltaría la gracia que suscitó tal jubilosa risa? ¿Grant?
domingo, 30 de octubre de 2011

Otra bellísima banda sonora de Alexandre Desplat, para una grata y sugerente obra, aunque quizás se quede a medio camino de su potencial, 'El velo pintado' (2006), de John Curran, con dos excelentes protagonistas, Naomi Watts y Edward Norton.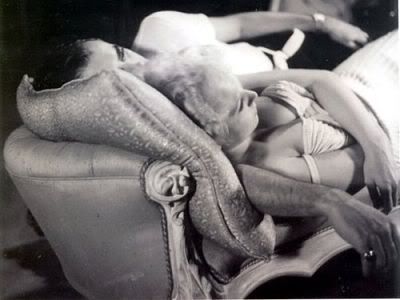 Kim Novak y Tyrone Power descansan en una plácida pausa de rodaje de 'Melodía inmortal' o 'La historia de Eddy Duchin' (The Eddy Duchin story, 1955), de George Sidney, biopic de apolilladas convenciones del célebre virtuoso pianista (el notariado en episodios desde que llega recién salido de la universidad de farmacia a la gran ciudad para triunfar como pianista y convertirse en el proto(estereo)tipo del hombre de éxito). Desangelado melodrama que transita, parece que más inercialmente, por las superficies de su trama sin sumergirse en sus turbulencias: la muerte de la primera esposa tras dar a luz; la negativa hasta que pasan cinco años en querer ver a su hijo... Una vitrina de impecable imágenes pulidas (excelente la fotografía en scope de Harry Stradling, jr) que parece petrificar las emociones en un exangue trámite de clichés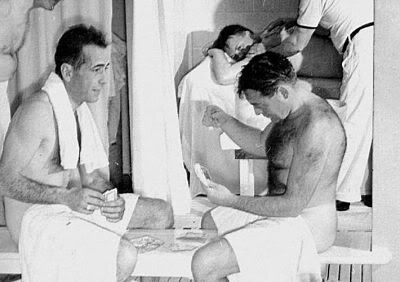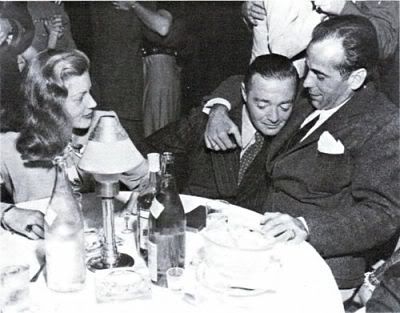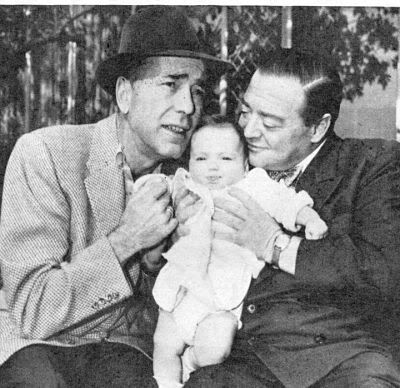 Peter Lorre y Humprey Bogart mantuvieron una amistad muy íntima desde que se conocieron en el rodaje de 'EL halcón maltés' (1941). Compartieron partidas de cartas relajadas en saunas, abrazos y sonrisas cómplices en celebraciones de fiestas nocturnas o las alegrías de los grandes acontecimientos personales como el nacimiento de la hija de Lorre, Catherine. Se cuenta que cuando rodaban 'Casablanca' (1942), Lorre, que había firmado para la Warner (un contrato que duró de 1941 a 1946), tras que Bogart le dijera que ese contrato le restringiría sobre todo a películas de terror de serie B ( y pocos papeles sustanciosos), le propuso a este que 'secuestraran' el cadáver del recién fallecido John Barrymore, y lo transportaran hasta la casa de Jack L. Warner, para que se lo encontrara al despertar.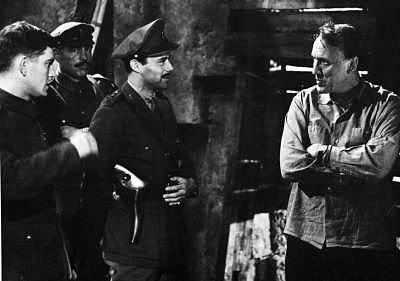 Joseph Losey con Dirk Bogarde y Tom Courtenay, abogado defensor y acusado de deserción, durante el rodaje de 'Rey y patria' (King and country, 1963), una de las más notables obras de Joseph Losey. Al filo de la retórica en algunos instantes, tiene en su tétrico y físico empleo del espacio, esas embarradas trincheras en la que afloran brazos de cadáveres e infestada de ratas que pueden morder tu oreja mientras duermes, una de sus mejores bazas, aparte del impecable elenco de actores. Un final cortante y demoledor es como el último rasgón de una tragedía que a la vez es farsa.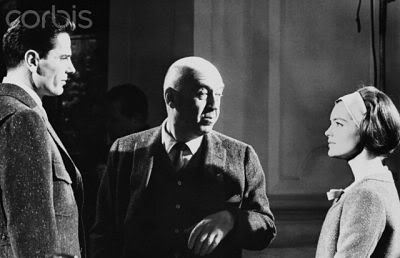 Otto Preminger, Romy Schneider y Tom Tryon, en un momento del rodaje de la magnífica 'El cardenal' (The cardinal, 1963). construida y tramada sobre una serie de flashbacks, que trazan el sendero de la vida de Stephen (que la evoca en el momento en el que le van a investir como cardenal), sus enfrentamientos, tanto a nivel personal como colectivo, con una realidad inestable, confrontándose a su falibildad, a la escisión entre idea y sentimiento (la relación con su hermana, y con la mujer de la que se enamora), en los dos primeros episodios), y a otros dogmas de fe, en los dos últimos (el racismo y el Ku klus klan en Estados Unidos, y el nazismo cuando invadió Austria). La piedra del dogma, de la mirada institucionalizada, inflexible, anclada en el tiempo, enfrentada a una realidad de miltiples perspectivas, a una realidad que pondrá en cuestionamiento o debate la tensión entre idea y realidad, entre dogma y comprensión.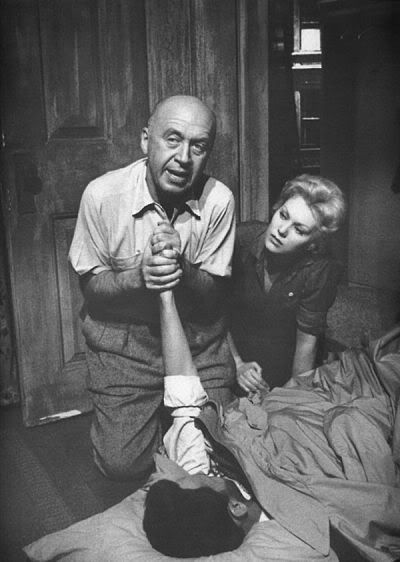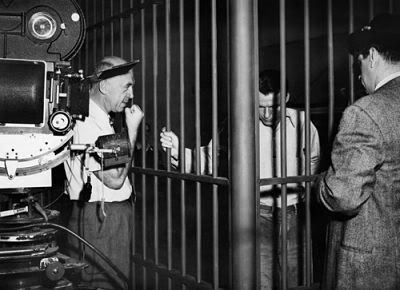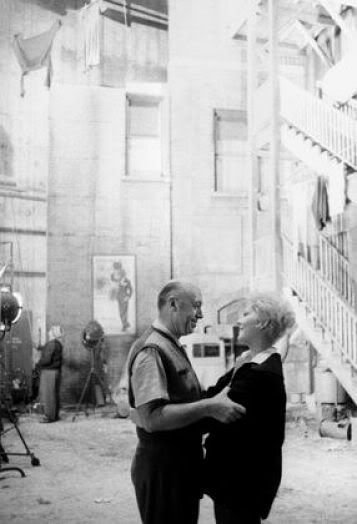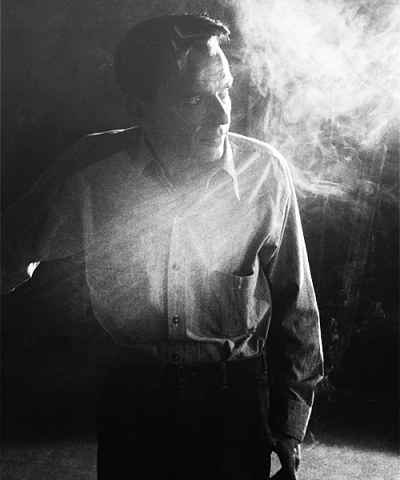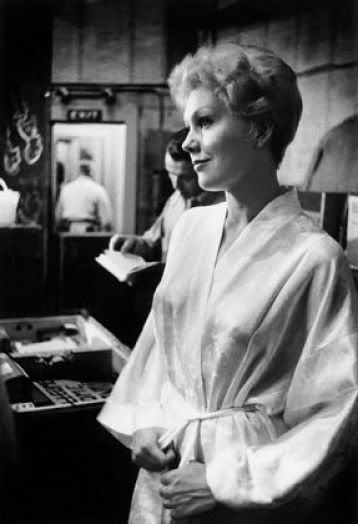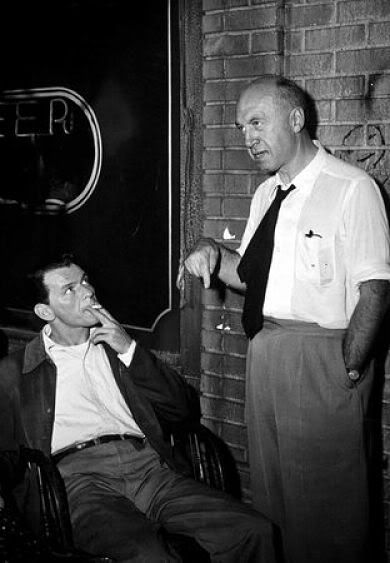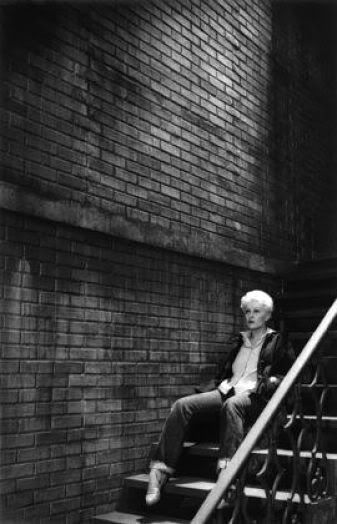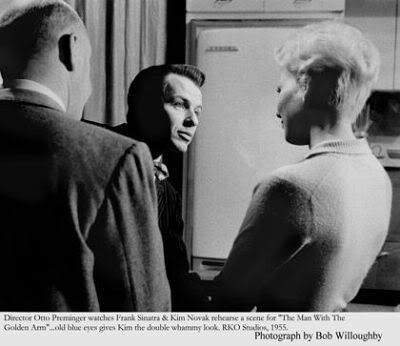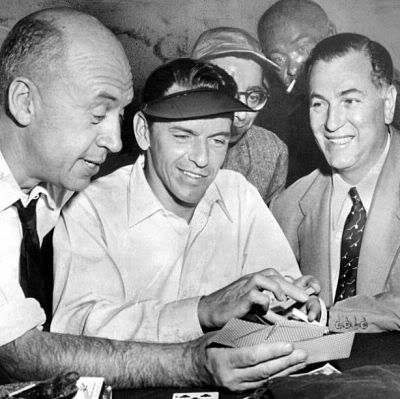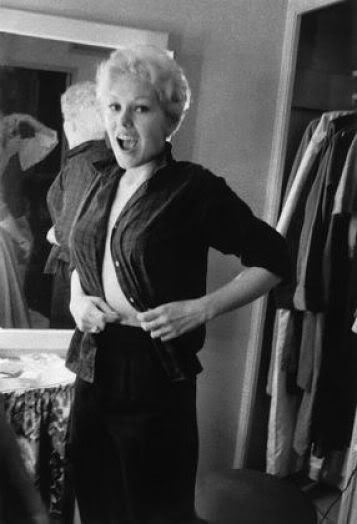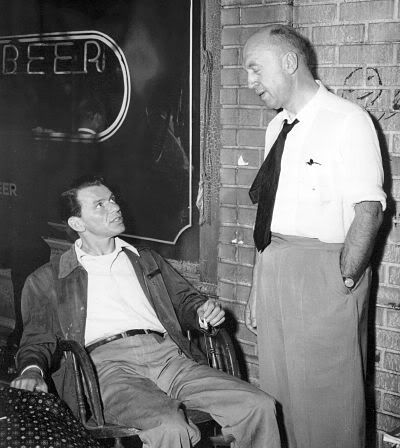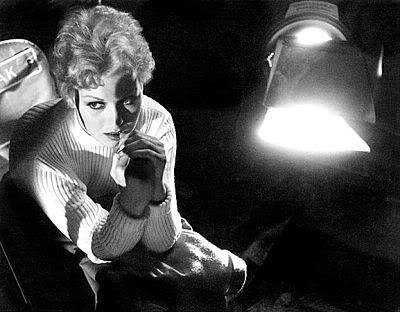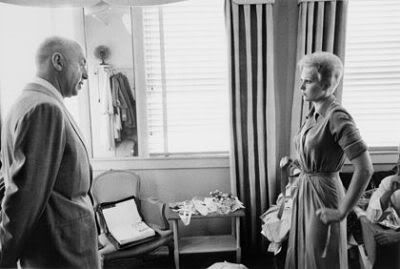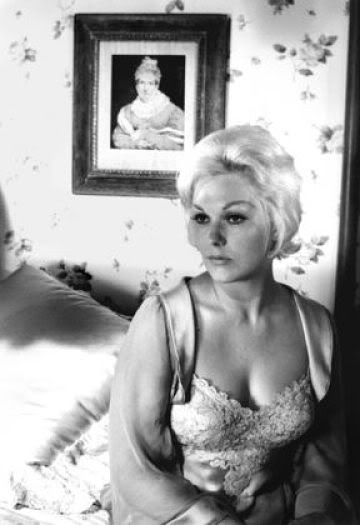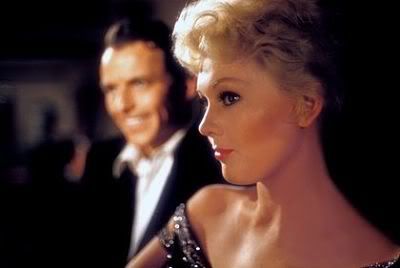 Otto Preminger, Frank Sinatra y Kim Novak (fotografiados pro Bob Willoughby) en varios momentos del rodaje de 'El hombre del brazo de oro' (The man with the golden arm, 1955),una obra áspera, sin concesiones ,sostenida sobre una aguda reflexión sobre las dependencias que nos creamos o que nos sojuzgan otros con sus aviesos intereses o misería.
sábado, 29 de octubre de 2011

Otra exquisita banda sonora de este gran compositor polaco, Jan A.P. Kaczmarek, como las de 'Descubriendo Nunca Jamás' o 'Siempre a tu lado', para una excelente película que pasó injustamente desapercibida: 'The visitor' (2007), de Tom McCarthy, que reinicide en las cualidades de su opera prima,'The station agent' (2003). Un estilo nada retórico, en el que se destierra lo accesorio, que fluye a través de situaciones y acciones que definen las circunstancias y las transformaciones emocionales de los personajes. O cómo van conectando con los demás y el mundo de otro modo, más cercano, más empático.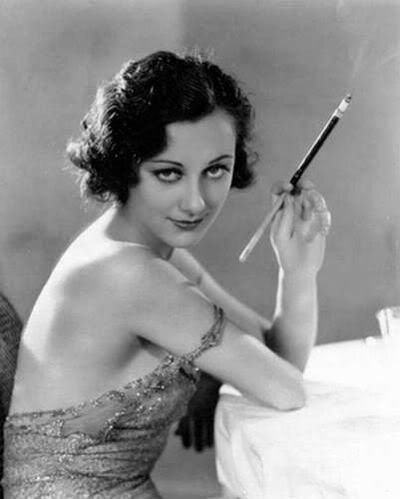 Ann Dvorak, en una imagen promocional para la extraordinaria 'Scarface' (1932), de Howard Hawks,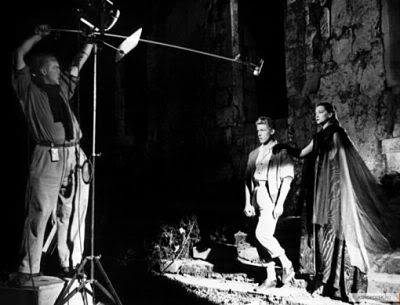 María Casares, 'la Princesa' (la Muerte) y Eduard Dermit (el joven poeta Cegeste), durante el rodaje de una secuencia, en el inframundo, de la fascinante 'Orfeo' (1950), de Jean Cocteu, en la que los límites se transgreden a través de los espejos, que fluyen y conectan con otra realidad, otro mundo, el inframundo, que son ruinas. Orfeo (Jean Marais), poeta, en la secuencia inicial se queja de las carencias del ambiente intelectual de la ciudad ( y de la crítica). En esa aparición de la muerte, concidiendo con el fallecimiento del joven poeta Cegestes, quizá sea reflejo de esa insatisfacción vital, de sentirse fuera de ese entorno, de ese mundo que no siente habitar, con el que no conecta. De ahí, esa fascinación que sienta por la muerte que se ha enamorado de él, y que implique el fallecimiento de su esposa, Euridice. Todo se ralentiza en ese inframundo, como así quizá se sienta en un desfallecimiento de entusiasmo vital, en su reflejo, sus ruinas, Recuperar a Euridice es recuperar quizá el entusiasmo vital, la conexión perdida. Más allá de estas disquisiciones, la obra es un cautivadora inmersión, repleta de hallazgos y sugerencias, un rapto de la sensaciones, de la razón misma, transgredida en sus nociones a ras del suelo del verosimil. Es el espacio transfigurado, en el que la Muerte es seductora, un reflejo que abre otras posibilidades, que podría formar un singulary contrastado dueto con la ajedrezistica Muerte de 'El séptimo sello' (1957), de Ingmar Bergman.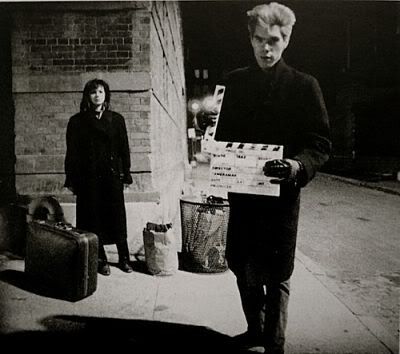 Jim Jarmusch y Eszter Balint, durante el rodaje de la cautivadora 'Extraños en el paraiso' (Stranger than paradise, 1984).'Vas a un nuevo lugar, pero parece el mismo', dice uno de los protagonistas de esta odisea sonámbula en forma de irónico bucle. Da igual que se deplazen o que estén apoltronados durante horas ante el televisor. Parecen vidas en suspensión. Extranjeros incluso de sí mismos. Más extraño que el paraiso reza el título original. También podía haberse llamado fantasmas en un lugar al que, por un extraño motivo, llaman paraíso.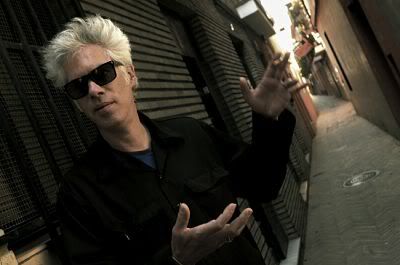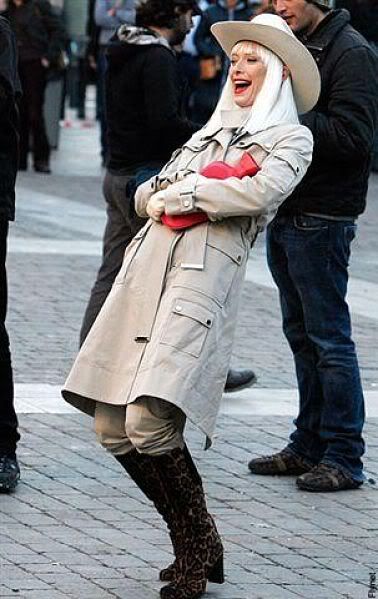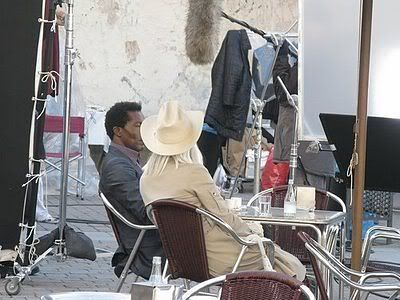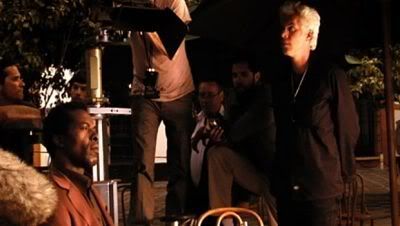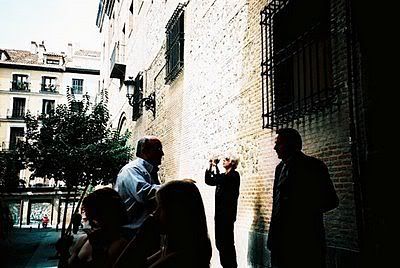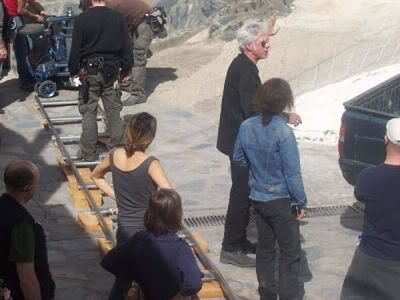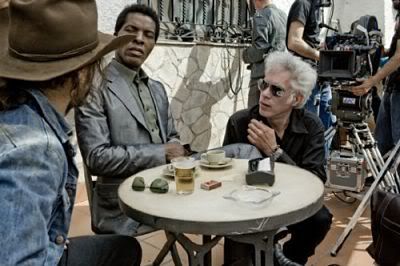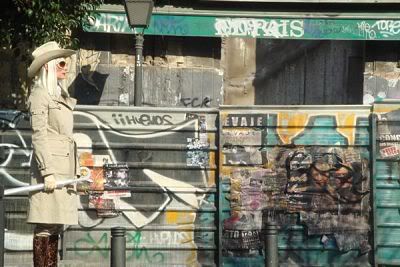 Jim Jarmusch, Tilda Swinton, Isaac de Bankolé y Gael Garcia Bernal en varios momentos de rodaje de excepcional 'Los límites del control' (2009).En esta obra no importa saber si lo que nos relatan es imaginado o real, sino su interrogación sobre lo que es real o imaginado. Todo es subjetivo, según la percepción. La realidad no tiene centro ni límites. La realidad es arbitraria. Es necesario usar la imaginación. 'A veces los reflejos tienen más presencia que el objeto que se refleja'. La primera imagen de 'Los límites del control' es el reflejo distorsionado del protagonista, sin nombre, figura impasible, que se desplaza, y a la vez es quietud. Jarmusch, como los Coen en 'Un tipo serio', explora 'el principio de incertidumbre', y lo hace cine. Su apuesta es más radical si cabe, e igual de desconcertante y excéntrica. Al protagonista le preguntan por su mujer que dicen que es bella, y él dice que está dormida. Quizá estemos despiertos, quizá estemos inmóviles en un sueño que no sabemos que estamos teniendo. Lo que sí es cierto es que, como Jarmusch deja claro en los letreros finales tras los títulos de crédito, es que es necesario sentir y pensar que no hay control ni límites. Y algo más es cierto, esta es una obra extraordinaria, un fascinante y exultante viaje a través del espejo.