Los directores de cine 'no queremos admitir realmente cuánto tiempo gastamos obsesionados con los sueños de otra gente', reconoce Haven (Tygh Runyan) a Laurel (Shannyn Sossamon), la mujer que ama, y protagonista de la película que está rodando, de la que se fascinó mientras realizaba el casting. Doble gestación en paralelo, de un rodaje y de una relación. Ahora es también la protagonista de la película de su vida, aunque ambas pantallas se confunden. Quizás sea su sueño, o quizá esté soñando el de otros, a través del personaje, Velma, que ella interpreta en la película que ruedan. Se lo dice tras ver 'El espíritu de la colmena' (1982), de Víctor Erice, la segunda de las tres obras que contemplan a lo largo de la narración. Las otras dos son 'Las tres noches de Eva' (1941), de Preston Sturges y 'El séptimo sello' (1957), de Ingmar Bergman. Una mujer que se desdobla, identidades inciertas, percepciones masculinas ofuscadas; la figura incierta, enigmática, que la mirada transfigura, idealiza; y el juego y la muerte. El juego ya se evidencia en el hecho de que la película que rueda Haven se titula igual que la que dirige Monte Hellman, 'Road to nowhere' (2013), camino hacia ninguna parte. Hellman no había rodado ningún largometraje desde hacía veintiún años, desde la poco estimulante, 'Posesión alucinante' (Silent night, deadly night III, 1989).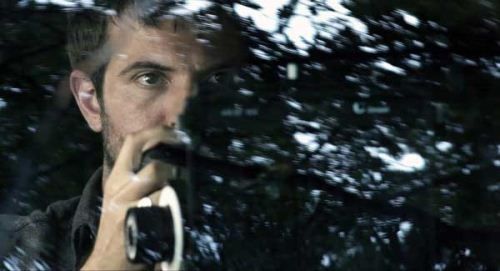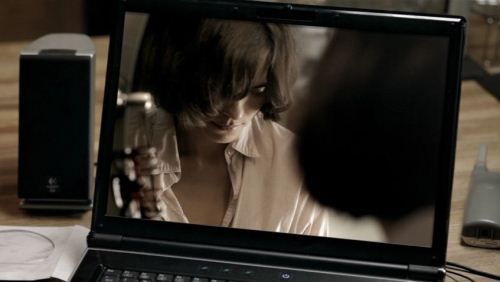 Los títulos de crédito iniciales, que se suceden durante las primeras secuencias, son los de la película cuyo rodaje será el centro de atención del relato posterior. Centro, es un decir, ya que el relato se descentra, se escinde, se difumina, entre las secuencias del rodaje y las montadas ya de la película. Hay instantes en los que, en principio, es difícil advertir en cuál se está. Y esa difuminación se hará más progresiva, con saltos más breves entre ambos espacios, el de la ficción y la realidad. Además, el guión de la película que se rueda está inspirado en sucesos ocurridos en el pasado reciente, que acabaron trágicamente. Personajes, como Bruno (Waylon Payne), que fueron partícipes de aquellos sucesos, aunque fuera periféricamente, interfieren con las huellas de ese pasado en el presente, como la protagonista, Laurel, se difuminara con la mujer que encarna, Velma, a través de la mirada de otros. Aquella mujer, Velma, murió trágicamente entonces, envuelta en cierta oscura trama, como ella también en la realidad.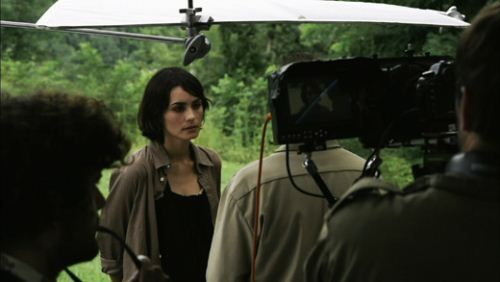 Del mismo modo que hay secuencias centradas en los ensayos de los actores, sean ante la cámara o con el guión, en donde asistimos al proceso de cómo hacer sentir real lo representado, a través de las distintas formas de decir los textos, con diferentes entonaciones y gestos, hay secuencias reales que parecen parte de una escenificación. O en otra dirección, cómo se enmaraña esa relación entre realidad, y ficción, esa obsesión por los sueños ajenos, la ficción, que se enreda con la proyección del sueño amoroso.¿Esa necesidad que siente Haven de ella, tanto como actriz como mujer, cuál es su raíz y su condición? Bruno hay algún momento en que la llama Velma en vez de Laurel en el fragor de una discusión. El actor que interpreta al protagonista masculino en la película que se rueda, Cary (Cliff De Young), está envuelto en parecidos trapicheos en la ficción y en la realidad, lo que dificulta aún más la distinción. Laurel es protagonista de dos películas, delante de la cámara, y fuera de ella, y su personaje se refleja en el pasado a través de sus acciones ilícitas, como el padre de Velma, Nestor (Fabio Testi), la ve como si fuera su hija, aunque sepa que no lo es.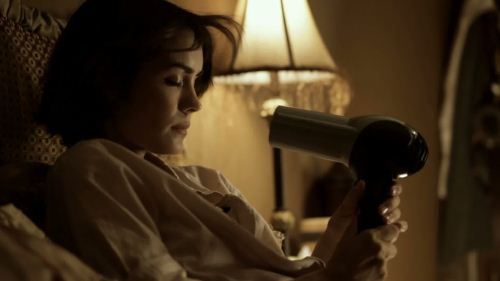 El comienzo es extraordinario: los planos de dilatada duración, la predominancia de los silencios, imprimen en la narración la sensación de que algo va a quebrar esa aparente armonía; transmite la sensación de que va a sonar un disparo en cualquier momento. Vemos al director, Haven, con una chica, Nathalie (Dominique Swaim), ante una cámara y un portatil, sin saber aún cuál es ese espacio cerrado; posteriormente vemos a Laurel sentada en la cama secándose el pelo, mientras se suceden los títulos de crédito de la película que rueda Haven. Un coche llega ante una casa, en la que el conductor entra. La cámara permanece en la misma posición, ante la casa, silenciosa. Hasta queun buen rato después suena un disparo. Laurel, o más bien su personaje, Velma, coge el coche y llega a un túnel oscuro; se perfila su sombra mientras rompe en sollozos. Se dirige junto a un lago. Súbitamente, en profundidad de campo, cae una avioneta sobre el agua.
Esa incertidumbre, esa sensación de que cualquier cosa puede ocurrir, y en el momento más inesperado, se aposentará sobre el relato, y la dominará. No sabremos, como ya en esta secuencia previa, en la que ya hay dos tiempos, el de la realidad y la ficción, cuándo la transición se realiza de una a otra. En el plano final de 'Carretera asfaltada en dos direcciones' (1971), se simulaba que el celuloide se quemara, como s el proyector se hubiera atascado. En las secuencias finales, Haven filma con su cámara a la policía apostada fuera del edificio. Como si ya sólo quedara el gesto de filmar. Entre los títulos de ambas películas, 'Carretera asfaltada en dos direcciones' y 'Camino hacia ninguna parte', sólo falta establecer el vínculo de un verbo. Prevalece la imagen, la proyección, el sueño, la certidumbre de lo incierto. P.D: 'Road to nowhere' es un homenaje de Hellman a Laurie Bird de la que se enamoró durante el rodaje de 'Carretera asfaltada en dos direcciones' (1971). La actriz se suicidaría en 1979, cuando mantenía una relación sentimental con Art Garfunkel.