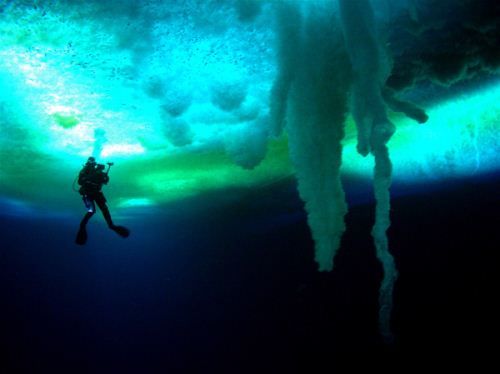 La mirada de Werner Herzog, en su viaje a la Antartida, no tiene la intención de focalizarse en los pinguinos, como si fuera la mirada de un turista que se conforma con las peculiaridades de las superficies. Su interés en la naturaleza reside en ciertas interrogantes, en por qué se utilizan máscaras o plumas para ocultarse, o en por qué se ensillan los caballos y se persiguen a los villanos, por qué ciertas hormigas usan un rebaño de pulgones para conseguir gotas de azucar y un animal de cierta inteligencia como el chimpance no se aprovecha de especies inferiores. En suma, le interesan los espacios en blanco que exploran las interrogantes, la aventura del conocimiento, esos espacios en blanco de territorios desconocidos que eran habituales en los mapas de los exploradores siglos atrás. Ese sentido de la aventura que se degradó, cundo la aventura, la exploración, se convirtió en acumulación de condecoraciones, para un país o para la propia vanidad, o para conseguir records, como el hombre que ha viajado a todos los continentes, y de la forma más estrafalaria, con un vaso en la cabeza o dando vueltas en el suelo o pegando botes. Herzog entra en la cabaña en la que vivieron Shackleton y sus compañeros de exploración (peripecia narrada en el fabuloso documental 'Atrapados en el hielo, 2000, de George Butler), que permanece igual que entonces, hace un siglo, aunque asemeja, como apunta Herzog,a un supermercado abandonado.
En 'Encuentros en el fin del mundo' (Encounters at the end of the world, 2007), Herzog conversa con exploradores de nuestro tiempo, biólogos, vulcanólogos o físicos, incluso una experta en ordenadores que ha vivido las más insólitas situaciones en sus viajes por los diversos continentes, desde viajar dentro de una alcantarilla en un camión a ser rescatada por aviadores rusos en medio de una refriega en un país africano. Hombres y mujeres al margen, y a la vez en el centro. Excéntricos que alientan la mirada despierta que no considera la realidad como una pantalla corredera rutinaria. Herzog busca explorar otros ángulos, otras miradas. Y hay una que le había incentivado explorar especialmente, la mirada que gestó el proyecto, la búsqueda de esta otra realidad, la inmersión bajo el hielo, que comparan a nadar bajo una catedral. La música se conjuga con las asombrosas imágenes, con la confrontación con lo insólito, con lo otro.
Hay otros ángulos, otras perspectivas, otras posibles experiencias, como aún se descubren especies desconocidas hasta ahora. La música se expande, se despliega, mientras la cámara se desplaza, fluye, en ese paisaje cautivador. Se manifiesta como una de esas comuniones pasajeras que alientan el logro de sentirse presente, de la mirada que aún vibra porque está despejada, no entumecida con las inercias. Como cuando se desplazan por los pasadizos de hielo que se han creado en las fumarolas. O como cuando se tumban en el hielo para escuchar las singulares conversaciones de las focas que nadan debajo. O, sencillamente, se constituyen en celebración, como cuando dos de los científicos tocan la guitarra eléctrica subidos en el techo, para celebrar nuevos descubrimientos. Momentos de la sensación verdadera. Herzog intenta captar lo invisible, al acecho, una mirada incombustible, voraz, en movimiento. Aunque sean aproximaciones.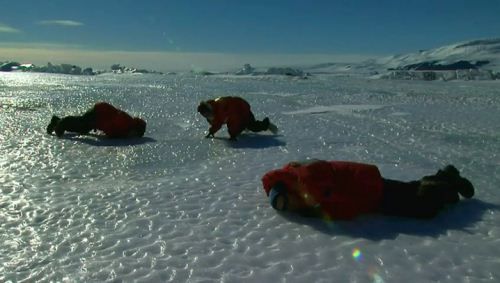 Es como ese globo que lanzan hacia las alturas, para estudiar ese elemento invisible, el neutrino, partícula subatómica que estaba en la creación del universo, en el bing bang, está alrededor nuestro, pero al mismo tiempo está en otra parte, invisible, esencia y a la vez realidad escurridiza. La matriz del asombro. Porque siempre habrá preguntas. Herzog había dicho que no quería incurrir en la mirada convencional, ir a la Antartida para rodar a los pinguinos. Y estos precisamente, protagonizan uno de esos pasajes, característicos del cine de Herzog, que son fisuras, conjugación de interrogante, documento, metáfora. Un pingüino que decide dirigirse hacia el interior, en donde le esperan 5000 kilómetros de vacío, en donde le espera la muerte segura. ¿Por qué? se pregunta Herzog. La pregunta vibra en el espacio en blanco. La aventura del asombro, la aventura de las preguntas incombustibles, prosigue.