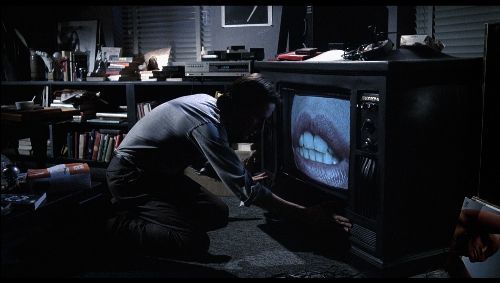 'Después de todo, no hay nada real más allá de nuestra percepción de la realidad ¿no es así? Afirma, pregunta, un personaje de 'Videodrome' (1982), de David Cronenberg, cuyo apellido es O'Blivion (Oblivion/Olvido). Afirmación e interrogación que no dejan de ser eslabones o camuflaje de una aviesa actitud sugestionadora que propulsa una realidad/representación en la que lo real y la simulación, lo presente y lo virtual son difíciles de discernir (de hecho, ese mismo personaje, que interviene en un programa de televisión, está ya muerto: su intervención es una grabación en video). La mordacidad de la interrogante que abre fisuras en los cimientos de lo instituido como realidad, como si se rasgara los ropajes del hábito para mostrar la desnudez del escenario, de las bambalinas tras los forcejeos entre rutinas y rituales, no deja de tener, en este caso, un substrato manipulador. Responde a la conveniencia. Las voluntades se pueden mediatizar, condicionar, sugestionar. Realidad programada, la nueva carne.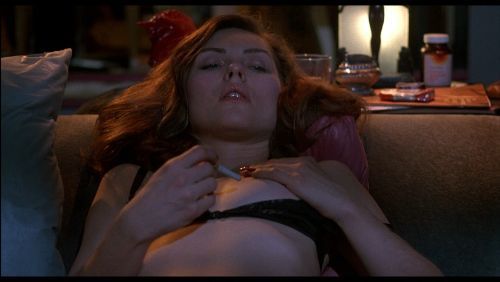 Paradojas; el creciente anhelo de experiencias extremas que superen y transgredan los límites, sumen en una hipertrofia de la virtualización. Abrasas tu piel, la fustigas, buscas el dolor, la tortura, la crueldad y el sufrimiento, para sentirte más presencia, y te sumes en la enajenación, en la hipertrofia de la escenificación. Eres personaje, rol, pantalla. Desgarras tu cuerpo para convertirte en una imagen, una proyección, una entidad en la que ficción y lo real se fusionan, se confunden. Ese mismo año, en 1982, en 'Blade runner' (1982), de Ridley Scott, unas criaturas creadas con fecha de caducidad, los replicantes se rebelaban contra su creador. La rudimentariedad del humano, representada en el personaje de Deckard (Harrison Ford) contrastaba con la excepcionalidad de unas réplicas. Réflejos, réplicas, proyecciones. La condición anodina del espectador, la condición excelsa de la proyección o reflejo. Posteriormente, en 'Están vivos' (1988), de John Carpenter, gracias a unas gafas especiales se podía advertir que la realidad no era cómo parecía, que la percepción estaba manipulada, mediatizada. Tras los anuncios de las vallas publicitarias se ocultaban mensajes subliminales, como había rostros que no correspondían con los atributos reales de unos seres que habían establecido su dominio dominando las voluntades, presentando la realidad a su conveniencia.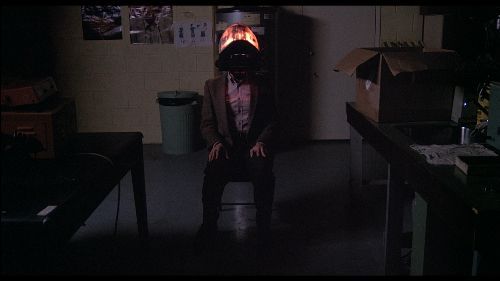 No dejaba de ser una mordaz metáfora, como la de la obra de Cronenberg, con respecto a una década en la que se acrecentó y acentuó, por el desarrollo de las nuevas tecnologías, la posibilidad de la manipulación a través de los diversos medios, lo que, entre otros aspectos, acrecentaba la enajenación, la progresiva incapacidad de distinguir lo real de la simulación, como la adicción a ese estado de embriaguez, entre la alucinación y deriva que suponía una fuga de la insatisfactoria y entumecedora realidad. Sin advertirse que podía utilizarse como recurso conveniente de domesticación, de conveniente embrutecimiento a través de la descarga de estímulos que liberaran y satisfacieran emociones primarias. La pantalla se convertía en sumidero. Max (James Woods) tiene poco de resistente sublevado como los replicantes, o como los que se enfrentan con las gafas de la percepción adecuada a los extraterrestres. Es un esbirro del sistema, un productor de televisión que busca para su cadena el producto competitivo más eficaz, aquel que pueda atraer a más espectadores a su cadena.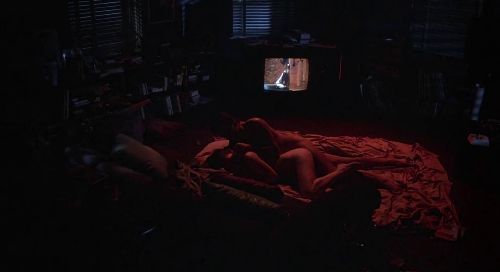 Su seña de identidad es el sensacionalismo, la imagen que sacude, que electrocuta la atención. Busca la imagen impacto. Y las apuestas suben cuando le revelan unas escurridizas imágenes 'piratas' de incierta procedencia que unen sexo y violencia. Max busca imágenes no porque representen lo real, o la realidad, sino imágenes que parezcan reales a la par que sean recreaciones de emociones y situaciones extremas, fuera de lo habitual y lo cotidiano, aquellas imágenes que capten la percepción de ese espectador medio al que no lo importa si lo que percibe es real o o reconstrucción, sino su condición de imagen sensación, imagen choque, que sacuda su pulsión, a través de la compulsión, de la repulsión.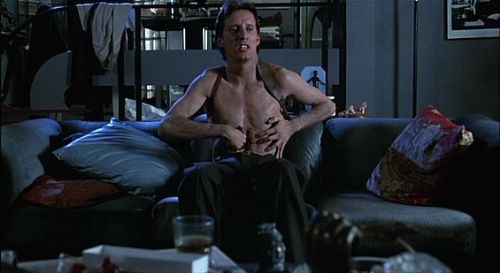 Max se encuentra con, o se sumerge en, el reinado de la imagen sensación en su estado de ambigüedad suma. Carne e imagen se mutan. Los látigos azotan los monitores en los que los cuerpos en la pantalla gimen ante cada fustazo. Las cabezas pueden introducirse en la pantalla, como las manos o las cintas de video dentro de los vientres como si preñaran la mente enajenando su cuerpo, su sistema nervioso. Es un arma, como la pistola que se introduce en el vientre y al salir mano y pistola están unidas por cables. Max cruza al otro lado, de programador a mente programada, de suministrador de 'balas o imágenes choque enajenadoras' a instrumento enajenado. Se pierde la noción de la realidad, alterada, manipulada, para percibir lo que sea conveniente para la entidad manipuladora.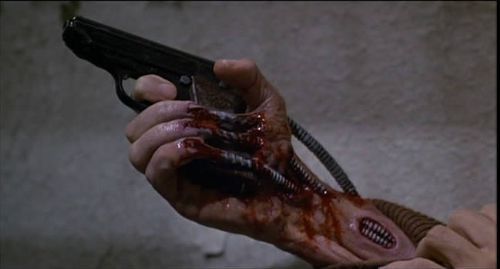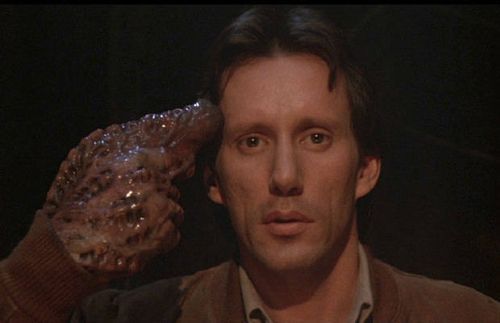 En este aspecto, como también será el caso de la obra de Carpenter, también subyace una incisiva crítica socio política a cómo los mecanismos del poder estaban derivando en una entraña cada vez más retorcida en sus instrumentos de manipulación y domesticación social. Lo real se difumina, sólo existe la percepción, la percepción modelada. La realidad es como nos la presentan. Ya nos creemos lo que nos dicen que somos, sentimos cómo nos han modelado a través de los diversos medios, como receptores de una descarga de estímulos e inhibiciones. Lo que no se estimula, lo que no se muestra, no existe, no es real. El dominio de la mediatización implica la forja de criaturas frankesteinianas, mentes hecha de retales con esa nueva carne, mutación de sensaciones primarias y artificios ficcionales. Carne y circuito. Shoot the film, Shoot to your head.