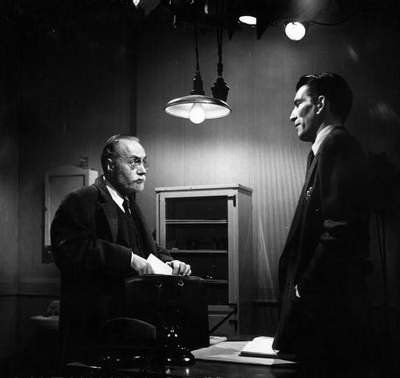 En una de las secuencias de 'Cartas envenenadas' (The 13th letter, 1951), de Otto Preminger, remake de 'El cuervo' (1943), de H.G Clouzot, el doctor Laurent (Charles Boyer), tras hacer oscilar la lámpara, cuestiona la rigidez de juicio del doctor Pearson (Michael Rennie): 'Cree que la gente es buena o mala. Aun así lo bueno y lo malo pueden cambiar de lugar, como la luz y las sombras. ¿Cómo podemos estar seguros de dónde acaba una y empieza otra? O en qué lado estamos en cada momento' 'Es simple. Detengamos la luz' replica el doctor Pearson, quemándose al intentar detener la oscilación de la lámpara. Hay dos aspectos que pudieron interesar a Preminger para realizar un remake que no desmerece de su magistral precedente. Una, coyuntural. La premisa de unas cartas anónimas enviadas a varios habitantes de una población, aludiendo a sus 'oscuros' secretos, posibles o reales, bulo o con base real, que envenenan la convivencia, intensificando la inseguridad y el recelo, se hace eco de la atmósfera de delación que se vivía aquellos años por la presión que ejercía en Hollywood el Comité de Actividades antiamericanas, incentivando (forzando) la confesión o el testimonio que delatara la afiliación, simpatía o implicación, pretérita o presente, con el ideario comunista, de conocidos y amistades.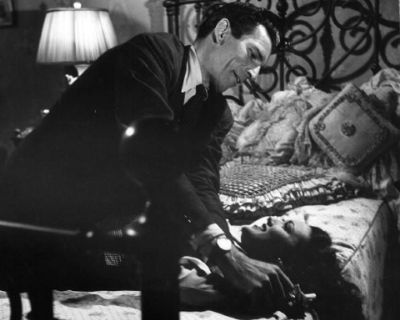 Una persecución, o una atmósfera de linchamiento, que se reflejaba en títulos de directores que rodarían su última película en Hollywood antes de exiliarse, como Joseph Losey (el remake, u oportuna actualización, de 'M'), John Berry ('Yo amé a un asesino'), o Cy Enfield ('The sound of fury/Try and get me, 1950), entre diversos títulos que evidenciaban, de modo manifiesto o soterrado, esa turbulenta época que envenenaba el ambiente en Hollywood, como los anónimos en Quebec, donde transcurre la acción dramática de 'Cartas envenenadas', la región mayoritariamente francófona de Norteamérica, como eco del original francés (además de intérpretes galos como Francoise Rosay, esposa de Jacques Feyder, hasta que este murió en 1948, y que había trabajado también con Marcel Carné, entre otros; o Guy Sorel, que interpreta el inspector Helier). Añádase que el personaje que de modo manifiesto representa la rectitud, el doctor Pearson, el primero que recibe el anónimo, aquel a quien van dirigidos, de modo más remarcado, los anónimos, instándole incluso a que abandone el pueblo, es el extraño, alguien que llegó no hace mucho al pueblo.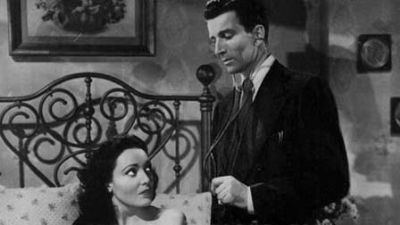 Y el actor, Michael Rennie había interpretado también ese año a otro 'extraño', también representante de la integridad, el extraterrestre de 'Ultimatum a la tierra' (1951), de Robert Wise, otra obra que se hacía eco de la creciente atmósfera de crispada violencia, de rechazo al 'otro' (no sólo en la sociedad estadounidense, sino a nivel internacional, con la germinación de la 'Guerra fría').La otra razón, estructural, como bien se condensa en ese diálogo citado, recorre y vertebra la obra, y la mirada, de Preminger. La condición movediza, escurridiza, de la realidad, de las acciones humanas, o de esa noción llamada 'verdad'; la dificultad de establecer un juicio rotundo sin caer en la rigidez o en abrasarse la mirada porque la luz no se puede detener. La vida está tramada por conjunciones copulativas y adversativas, por matices que siembran sombras en las que los pasos del discernimiento se enfangan. Los actos pueden tener consecuencias funestas, como los que provocan estas cartas, aunque no fuera esa la intención. Pero ¿cómo juzgar a quienes lo han hecho sin quemarse los dedos? Hay demasiadas sombras, dolores, frustraciones, fragilidades. Sumergirse en las entrañas de los otros implica desenvolverse en un laberinto plagado de oscuros desvíos, inciertos pasadizos, terrenos temblorosos. Sombras heridas, sombras que miran desde la distancia.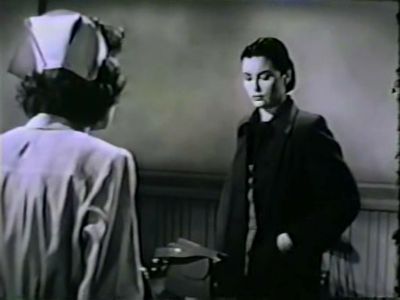 La obra de Clouzot podía resultar más amarga: en plena guerra reflejaba la ponzoña que paralizaba y crispaba a la sociedad francesa, incapaz de enfrentarse a quien les había ocupado, el ejército alemán, y se enquistaba en un enfrentamiento interno.La obra de Preminger , al no incidir con la misma intensidad en lo colectivo, en la comunidad, aún abstrae más el conflicto que subyace en el trayecto entre la mirada que dirige Cora (Constance Smith) a Pearson cuando éste lee la primera carta que le han enviado y la que dirige Mrs Gauthier (Francoise Rosay) a la navaja con la que su hijo se cortó el cuello tras recibir una de esas cartas en la que decían que padecía cáncer. Un trayecto que deja desarmado, en la intemperie, el juicio, como esa sombra que se aleja tras haber satisfecho su particular retribución (como en la obra de Clouzot). Una sombra que deja tras de sí más sombras, que no dejarán de temblar. Esclarecer la verdad enfrenta a una pesadumbre cuya huella no se desvanece. Aunque deja el resquicio, con la secuencia de cierre, de un rayo de luz que alienta la superación de tantos 'enfermos imaginarios' que se imaginan 'enfermedades' amenazantes en los 'otros'.