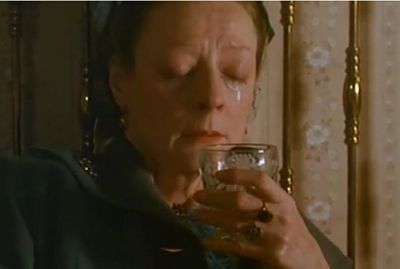 Si en 'Suspense' (The innocents, 1961), la institutriz Miss Giddens (Deborah Kerr) se iba quedando, progresivamente, atrapada, cautiva, en la telaraña de sus propios fantasmas, los reflejos de su represión, en 'La solitaria pasión de Judith Hearne' (The lonely pasión of Judith Hearne, 1987), Judith se enfrenta rabiosamente con ellos, e incluso logra liberarse y desprenderse de algunos, aunque el proceso suponga una doloroso trayecto, el de la definitiva decepción que arrasa con cualquier rastro de posible ilusión. Ambas comparten una respiración narrativa que asemeja a la de un embudo, una atmosfera que cada vez se va densificando y sofocando hasta que la intensidad, cual nudo corredizo, asfixia a personajes, e incluso el ánimo del espectador. Esa opresiva atmósfera que con tal refinado arte Jack Clayton también orquestaba en las esplendidas 'Siempre estoy sola' (1964), 'A las nueve de la noche' (1967) y 'El carnaval de las tinieblas' (1983), aunque en este último caso no en el grado que le hubiera gustado, ya que la productora, la Disney, quiso que se suavizaran las aristas, lo que no obsta para considerarla una excelente obra.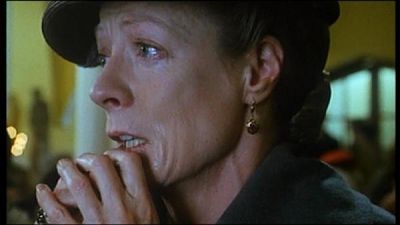 La novela que se adapta, de Brian Moore (que escribió el guión de 'Cortina rasgada', 1966, de Alfred Hitchcock), fue un proyecto de John Huston, que quiso haber realizado con Katharine Hepburn. Después, Irvin Kershner, que adaptó otra novela de Moore, 'The luck of Ginger Coffey' (1964), también quiso llevarla a la pantalla, con Deborah Kerr. Al fin, Handmade, la productora de George Harrison y Dennis O'Brien, eligió a Clayton como director, dado los precedentes de sus afinados retratos de personajes femeninos, con sus conflictos entre mente y cuerpo, de 'Suspense' y 'Siempre estoy sola' (en la que su protagonista, una esplendida Anne Bancroft, tiene una relación conflictiva con el sexo que parece contrarrestar con una pródiga maternidad). Judith es una mujer irlandesa que ya ha superado la cincuentena, que no ha logrado estabilizar su vida, malviviendo, cual figura errabunda, sin hogar, en pensiones, y ganando dinero con algunas clases de piano. Judith está 'marcada' por la infausta influencia de la represora religión católica, y en concreto de su tía, interpretada por Wendy Hiller. La secuencia inicial lo condensa magníficamente: Judith, niña, no puede contener un hipo en plena misa, lo que suscita su incontenible risa, y la de dos amigas, pero también la fiera reacción de su tía que aprieta agresivamente su mano, convirtiendo el rostro de la niña en una sonrisa amarga de dolor: elipsis al tiempo actual, con un plano del rostro de Judith, como si hubieran pasado muchos años, pero poco hubiera cambiado; la vida le sigue apretando la mano. En el primer tramo parecen remarcarse ciertos aspectos grotescos, en la descripción de las relaciones en la pensión a la que se ha trasladado Judith, que se van tiñendo de sordidez, hasta una secuencia crucial con la que el drama empieza a adquirir una dimensión más turbia y sombría, dejando asomar un lirismo quedamente desgarrador (como la emoción que intentara forcejear con la costra que la tiene cautiva).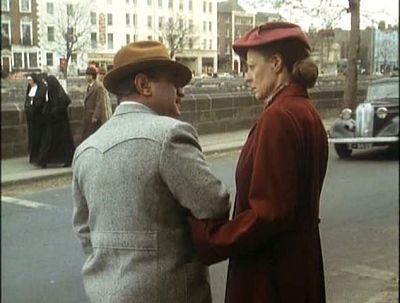 La citada secuencia es un montaje alterno, que tiene lugar tras la primera cita de Judith con James (Bob Hoskins), un hombre que viene 'de otro mundo', que es como decir que logró salir del agujero y 'ha vivido' (ya que ha residido treinta años en un espacio que parece de fantasía, el de las películas, Nueva York) cita que ha estado compuesta de asistencia al cine (película cargada de resonancias sexuales, 'Sansón y Dalila', 1949, de Cecil B DeMIlle) y cena, y el despertar de las ilusiones de Judith, que cree haber encontrado al 'príncipe' que la rescate de una vida 'aplazada', en suspenso, y quien la he hecho sentir resucitar su cuerpo ( su forma de estirarse en la cama, jubilosa, en postura sensual). El montaje en cuestión alterna planos de ella en su habitación, cada vez más bebida (afectada por las palabras de la hermana de James, la mezquina dueña de la pensión, que ha inoculado sordidez a su sueño, ya que le ha recriminado que ella quiera 'cazarle', así como le revela que James no ha tenido grandes negocios como él decía sino trabajos sin relevancia), y por otro, James que no puede contener el deseo que le suscita la sirvienta ( que había sorprendido en pleno acto sexual con su sobrino días atrás, y a la que golpeó con furia, dándola azotes en el culo, y llamándola furcia, lo que no ocultaba que en su condena había envidia de no ser su sobrino), y la visita en la noche, para forzarla. Un montaje cruel que ya señala una imposibilidad, el autoengaño de Judith, de sus ilusiones, que se verán corroboradas posteriormente cuando comprenda que el único interés de James es conseguir que ella invierta en su proyecto de negocio porque cree que ella es rica.
La narración a partir de entonces modificara su tempo, las secuencias se harán más breves, a la par que ella se entrega al alcohol, como el embrutecimiento o entumecimiento, ilusión de embriaguez, que contrarreste su decepción, la caída en la lucidez, la que comprende que no hay fundamento alguno en las enseñanzas católicas que ha recibido, que no hay sentido, que no hay consuelo ni ayuda (el sacerdote le recrimina, primero, que haya acudido en hora de confesión a niños, y después la deja hablar sin escucharla, como quien se la quita de encima por sus incómodas confesiones; sobrecogedora la secuencia en la que ella grita al altar, y cae desmayada lanzando su contenido al suelo con ella), como no existen esos príncipes azules que aún esperaba encontrar, aunque fuera en una versión de saldo, a lo que te vas resignando con la edad, como el personaje de Hoskins. Es como si se desprendiera de todas las simulaciones o representaciones que han dominado y cegado su vida, incluso desprendiéndose de las cortesías que han propiciado el cautiverio en un hábito de superficiales rituales, y empezara a ser sincera consigo misma y con los demás: el momento en el que le dice a su mejor amiga, con quien se reunía, junto a su familia cada domingo, que nunca le ha gustado. Pero la descarnada concisión de estos pasajes, no se hace amarga, es como una limpieza radical (aunque acabe recuperando dos 'muletas' simbólicas, la foto de su abuela y del Sagrado Corazón) que propicia un despojamiento, y así es el estilo concentrado, sintético, de elipsis afiladas, de este extraordinario último tramo, como si se fuera propiciando una destilación que es renovación, la aceptación de una soledad que no se dejará ya ser presa de los auto/engaños, por lo menos liberándose de ciertos fantasmas, los de unos príncipes azules que más parecen en la realidad tumescentes.